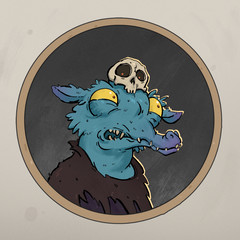 Sam Lamont
Freelance Illustrator and Concept Artist.
Cardiff, United Kingdom
About
Sam Lamont is a ENnie award winning illustrator, concept artist and games designer. He has worked on a wide variety of projects including Doctor Who, Total War: Warhammer, Call of Cthulhu and Star Wars. He loves creating expansive worlds, intricate games and horrifying monsters.
CLIENTS
Bad Wolf (A Discovery of Witches)
BBC (Dr. Who)
Saatchi & Saatchi (Asda Christmas Advert Campaign)
Tiger Aspect (Fortitude Series 3)
Creative Assembly
Cryptozoic
Games Workshop
Barbarian Brothers
Black Library
Fantasy Flight Games
CONTACT
Software proficiency
Photoshop
Productions
TV Production

Doctor Who

Year

2017

Role

Concept Artist

Company

BBC

Video Game

Total War: Warhammer

Year

2017

Role

Illustrator

Company

Creative Assembly